What I do
I work with agile teams in different ways:
As trainer
As coach
As software architect
Apart from that I write articles and give talks.
Trainer
As Professional Scrum Trainer for Scrum.org I offer public and private trainings for all roles:
Find my public trainings on Scrum Events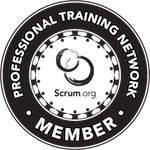 I am a member of the Professional Training Network of training providers that are entitled to offer Professional Scrum Trainings.
Together with my colleague Oliver Hankeln I run the DevOps Events. platform, where we publish DevOps conferences and trainings. We also offer our own DevOps Trainings: https://devops-events.de/trainings/devops-101/
Coach
As agile Coach I work with agile product development teams. I support the team in their way of continuously improving their ways of working. For software development teams I can also support them with my technical experience.
Furthermore I support organizations and teams transitioning to Scrum and optimizing their enterprise agility.
Softwarearchitekt
My own professional roots are in software development. Therefore I like working as software architect to support teams and organizations in finding and implementing the right architecture for their systems.
I am a member of the international Software Architecture Qualification Board (iSAQB) and am happy to build and spread the idea on what software architects are and should do.